There is nothing more exciting than the birth of a brand newborn baby. Finally getting to meet the little person that has been carried inside your bump for the last 9 months. Newborn sessions are a fantastic way of capturing those first memories of your new little one. It also means I get squishy baby cuddles 🙂

Why a newborn session?
I know we are told this so many times but I am going to say it. They really are only diddy for such a short amount of time. Capturing those tiny newborn details is such a great way of remembering them as that little newborn baby. Newborn sessions are ideally scheduled for when baby is under two weeks old. During the first two weeks babies are still all curled up and sleepy. They also haven't grown much at this point so it's a reminder of how little they were.
When do I book a newborn session?
I only take on a small number of newborn sessions each month so by booking early you secure your space. I recommend booking just after your 20 week scan. Those beautiful babies often have their own ideas of when they want their birthday to be and don't always come on their due date. To ensure I have sessions available to welcome you in to the studio within two weeks of birth I would add your due date to my diary and then keep sessions free both before and after. Once little one arrives you can contact me and we will schedule your session.
What happens during the session?
Once you have been welcomed in to the studio we will start your session. When you book your session I send over a short booking form, this asks a few questions around colour choices and poses etc. The information you provide is used to write up your personalised session plan. This is then used during your session to ensure I capture all the important images and create photos that are just perfect for you. Newborn sessions can include family images, parent & baby images, sibling images and individual images of your new little one as part of your session.
Sessions are extremely relaxed and led by your baby. With safety and comfort being my number one priority, I will work with poses baby is happy to be in. Newborn sessions last around 2-3 hours. This allows plenty of time for feeding, changing and cuddles as well as capturing your images.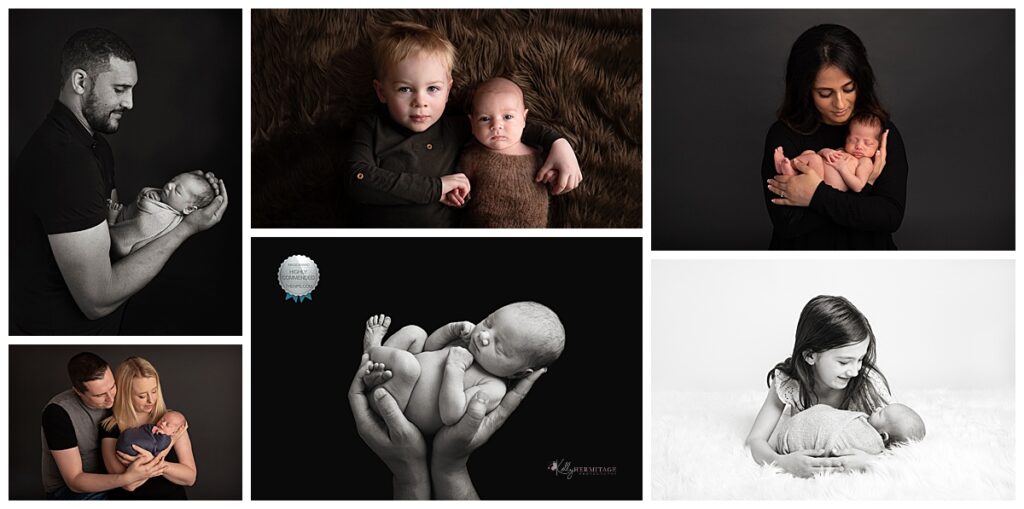 What shall I bring with me to a newborn session?
Bring along all the usual things you would carry in your changing bag. Some babies need an extra feed during your session so if you are bottle feeding please bring along extra. If you are breastfeeding, you are welcome to feed in the studio. If you feel uncomfortable feeding with me there please let me know.
what shall we wear?
You do not need to worry about babies clothing as I have plenty of wraps and outfits that we can use. If you do have a special outfit that you would like used in some images, please feel free to bring it along. Some parents also bring along a special blanket or teddy.
If you would like family images or photos of your new addition with older siblings then we can discuss outfits based on your colour choices. I am always happy to help out with ideas. As an idea though, keep it simple, plain clothing, avoiding patterns and choose colours that will work together and with your chosen background colours. I would suggest bringing along an extra set of clothes for yourselves if you are having parent images where baby is naked, just incase of any mess.
What if my baby doesn't sleep?
I get asked this a lot, in fact it is probably one of the most common questions along with what if they wee/poo everywhere.
Most babies sleep a lot and even if you arrive at the studio with an awake baby they will usually fall asleep at some point during your session. Some however are far too interested in what is going on around them to close those little eyes. Awake babies like to watch me work. Most of the time awake babies are quite happy to lay there and pose for me. Babies love to be wrapped up so if your baby is awake we will wrap them up and capture those beautiful eyes. Awake images are amazing, babies pull so many faces when they are awake and getting that eye contact leads to beautiful images.
Oh and if they wee or poo everywhere, it is absolutely fine, even if it is on me. Everything in the studio can be washed and is washed after every session so please don't worry.

What happens next?
After your session, I will go through your images and edit the best ones. You will then be invited back to the studio to view your gallery and select the images you would like to purchase. I offer a variety of digital collections and printed products, you can find pricing here. Samples of wall art and printed products are displayed in the studio. I am there to help with choices and to answer any questions you have.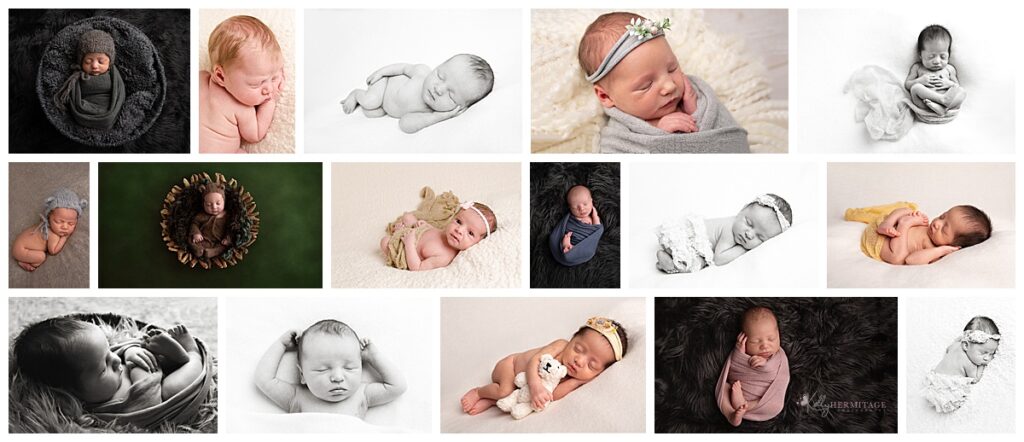 Ready to book your newborn session?
If you are ready to book your newborn session please get in touch.
If you have any further question you are welcome to send me an email to [email protected].
---
To see my latest work please find me on Facebook and Instagram
---